Welcome to The Carriage House
The story behind our brand: As a child, my favorite fairy tale was the story of Cinderella. The theme and message of believing and having faith in your dreams stayed with me as I grew up. It was this reminder, to believe in my dreams, is what led me to taking the leap when I wanted to share my creativity and passion with others. I want to inspire children to follow their dreams and to remind them that they are empowered to pursue their own goals. 
The designs you see here are inspired by vintage and timeless styles. I love taking the time to add small details like lace and hand embroidery in order to create beautiful pieces that you and your little girl will cherish. 
Meet the Designer
My name is Nikki and I live in Alabama with my family. We just welcomed our second daughter in November of 2021. My love for sewing and designing children's clothing began when I was pregnant with my first daughter in 2016. There is something incredible about coming up with a creative idea and turning that into a finished dress for your little girl to wear. Starting this small boutique has allowed me to design for children all over the world and be a part of the many timeless and magical memories that you create with your little ones.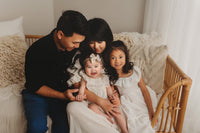 Sign up for our email newsletter to receive sneaks and info on new releases!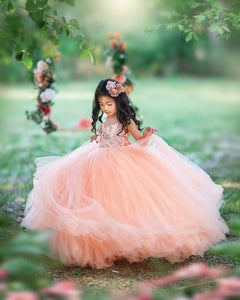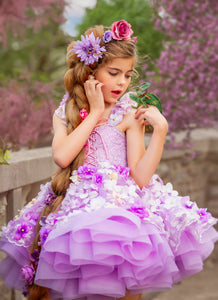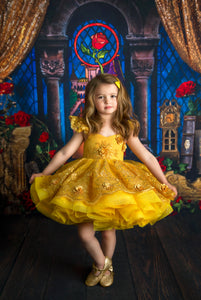 Policies
Returns and exchanges: Products are made to order. At this time, refunds and exchanges are not accepted unless item arrives defective. We strive to provide excellent customer service so please email sales@thecarriagehousedesigns.com with any issues regarding your order so that we can make it right.
Turnaround time: Preorders typically have a turnaround time of 10 weeks for production. This can vary with different releases and will be noted. 
To contact us please email sales@thecarriagehousedesigns.com
Customer Love
We have loved everything we have received from The Carriage House! First and foremost the quality is always Top Notch. Customer Service is also Amazing. The designs are one of kind and my daughter feels and looks like a princess in everything.

Shelly & Julianna
We have been purchasing from The Carriage House for over a year now. Each dress we have ordered has arrived on time, extremely high quality, has held up perfectly overtime. These dresses brings the biggest smile to my daughters face! Not only are they gorgeous they are very comfortable on my daughter! The owner's designs are truly unique and will stand out in any occasion!

Alina
The Carriage House Designs is my daughter's  and my favorite dress shop! Between the timeless classic designs and the high quality fabrics this shop never disappoints! Whether we order a gown or a tunic set we are always thrilled with our purchase, and somehow they manage to look even more amazing in person. I cannot recommend The Carriage House Designs highly enough.

Melanie
The Carriage House Designs is hands down our favorite place to shop. My daughter feels like a princess in everything she puts on. The tunic sets are comfortable and can be worn as every day apparel, while the couture selection is the stuff dreams are made of. With selections  that fit infants to 10 year olds, your little lady will feel like how special she is on the inside on the outside too

Rachel
Absolutely love this shop. The quality is amazing. Also the designer is super sweet and Talented.

Katrina